MATERIAL fine-grained recycled rubber granules with coarse-grained coloured EPDM granules bonded with polyurethane elastomer

THICKNESS 4mm, 6mm, 8mm, 10mm and 12 mm

WIDTH 1220 mm / 1.22 m

SHORE HARDNESS ASTM D-2240 60 + /- 5

DENSITY ASTM D-792 75 lbs. cu. ft.

ELONGATION ASTM D-412 70%

REBOUND ASTM D-3574 (5/16") 45-60 %

TENSILE ASTM D-412 200 psi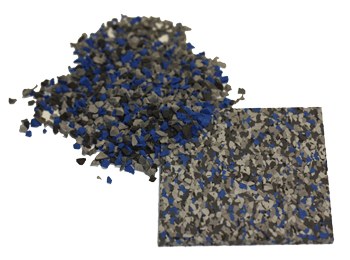 TABER ABRASION ASTM C-501 .45

FLAME SPREAD ASTM E-84 125 SMOKE DEVELOPED ASTM E-84 Passes 250

COMPRESSION SET ASTM D-395B 12 % or less OZONE EXPOSURE ASTM D-1149-86 No adversities AGING RESISTANCE ASTM D-750 No change TEAR STRENGTH ASTM D-624 50 psi

Granulate: 1-3 mm EPDM

Binder: Urethane

INSTALLATION fixed with adhesive or laid down loose to flat dry surface.
Adhesive
We recommend a good quality adhesive. These are the following F Ball adhesive recommendations:
Type of bond:
Permanent fixing
F58
Heavy duty / wet areas
F74, F81, F84
Vertical
F60, F66
MAINTENANCE: Under normal usage, light mopping, common detergents, if needed.