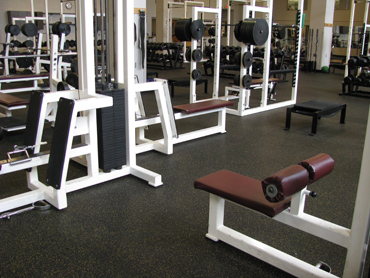 Ultimate Impact is the ideal choice for use in fitness facilities where equipment is used such as gyms, health clubs, leisure centres and sports centres, due to its shock and sound absorbing properties, slip and impact resistant and durability.

Ultimate Impact is extremely wear resistant so well suited to areas where there is heavy footfall for example stadiums.

Available in 4 mm, 6 mm, 8 mm, 10 mm and 12 mm.
At 12 mm Ultimate Impact is also spike / skate / stud resistant and is regularly used at ice rinks and golf complexes.

Ultimate Impact is also used as underlay for athletic tracks and is available in various thickness - please contact us for more information regarding this application.